172 Date Night Ideas in Kansas City (Tons of Fun Date Ideas) UPDATED
Don't get stuck with the same old night out. Find fun date night ideas in Kansas City with our 100+ ideas for date night!
Whether you're looking for a good first date idea or planning a casual date with your spouse of 20 years, find the best couple of things to do on a date right here.
….what are you waiting for? Start planning your Kansas City date night now!
And be sure to check out our KC Happy Hours Guide, KC Taco Tuesday Guide, Best Pizza in KC, and Best Breweries in KC Guide too!
Disclaimer: iFamilyKC is supported by its readers. When you purchase through links on our site, we may earn an affiliate commission.
Fun Date Night Ideas in Kansas City:
There are tons of Kansas City dates that are classic things to do & some unexpected ideas you may want to try out. You can find date ideas near you easily..& for every interest/activity possible!
Shake things up a bit with these unique and fun date ideas to do around Kansas City with your sweetheart.
Fun Date Nights for Any Time
This unique date idea offers private lessons and great opportunities for an intimate and unique date night.
Voted KC's #1 bar with live music, they host a wide array of bands, many of them are local gems, covering many different genres.
Located in the American Jazz Museum, next to Negro Leagues Baseball Museum in the 18th & Vine District, enjoy incredible jazz performances with open session times too.
Sometimes you need to think outside the box. Rage KC offers a safe environment to smash, break and throw breakables. This will definitely make for a unique date night.
This amazing farm in Kearny is great for family dates or dates with your significant other. During the spring stop by and explore their tulip fields or visit in the fall for their fun fall festival.
This hidden gem is a must-visit for your next date night. They offer craft cocktails from around the world in this swanky environment.
The Piano Room is KC's premiere traditional piano bar. If you or your date are music lovers, then check this place out.
This fun interactive museum is great for all ages. Spend the day taking awesome photos with various backgrounds and props.
Soon to be KC's ONLY indoor mini golf and lounge, Sinkers will be a great place to have a fun light-hearted date day or night.
This truly unique date idea is every Saturday from 2:00 pm-4:00 pm. They also have additional options that are equally fun.
This custom candle-making experience is great for a unique hands-on date. Make your very own custom scent and exchange it with your date after.
This Northland experience will really let your inner artist out. Create one-of-a-kind tie-dye pieces of all sorts.
Have your next date night at this amazing VR establishment. Try free-roaming, multiplayer virtual reality in KC.
Bring Venice to KC with this ultimate date night idea. Enjoy a quaint gondola ride along the KC Plaza.
This unique spot is great for a first, second, or 5th date! Aerial bungee fitness is a great option to try out.
From delicious food to craft cocktails, FLAVOR offers classes and private events that will make your next date night spectacular.
Explore the city from the treetops. At Go Ape Zipline you can experience rides along the lines, tree-top courses, and more.
Dinner and a show have been taken to a whole new level. The New Theater is an amazing dinner theater venue that offers a full menu including drinks and a great show.
Not everything is what it seems when you visit the Museum of Illusions. Explore a variety of hands-on and interactive exhibits at this unique museum.
Bring out your inner child and spend the day battling it out in the Nerf Arena.
This selfie museum is fully interactive and a total blast.
A KC tradition serving cold beer since 1947 occupies what some say is the city's oldest building. Live music on the weekends and a deli in the back to grab a sandwich or slice of pizza.
This jazz club is located in the Garment District downtown, listen to local talent while noshing on local flavor from the kitchen which is open till 10 pm. Check out their Sunday Jazz Brunch.
The largest beer selection in KC, dog-friendly, allows food from neighboring restaurants. KC's largest beer selection of taps and bottles is in the East Crossroads District. Enjoy a beer or a hand-crafted cocktail with some food from the Mission Taco Joint next door. Your 4-legged friend is welcome too.
13970 Santa Fe Trail Dr, Lenexa, KS 66215
Create your own DIY wood sign workshop at Board & Brush!
In the Power & Light District. Dance & Party! This dueling piano venue and event space have an energetic vibe that makes it the perfect spot for date night, company functions, happy hour with friends, or bachelorette parties.
Pierpont Tiki Bar
A new Tiki Bar has opened for the summer in KC! Located at the Conductor Club inside Union Station, where they have rotating themes in the bar area, you can enjoy a spin on the classic tropical cocktails, as well as specialty tiki concoctions.
Follow their Facebook page for the latest theme.
The bar is open Fridays and Saturdays from 5:00 pm to Midnight, but seats are very limited, so you must book reservations if you want to guarantee a spot. It will be open through the end of July, so hurry over!
First Fridays in Downtown KC
On the 1st Friday of each month, the Crossroads Arts District comes to life, so First Fridays are always fun Kansas City date ideas. The monthly festival is filled with couples' activities. Walk through food vendors, local artists, shops, galleries & more during your date night.
Green Lady Lounge Downtown Date Night
One of the most romantic spots in KC is the Green Lady Lounge, so be sure to visit while you are downtown.
Explore Other Downtown Areas
Or, check out these more low-key downtown areas:
Shop Local Markets in Kansas City
There are many great local markets & shopping areas for a fun date.
Check out the City Market downtown for fresh produce & spices, or find other Kansas City farmer's markets throughout town.
Shop the West Bottoms
If antiques, or shopping, is your thing, the West Bottom shops are the perfect date.
Explore tons of shops & local wares! You're sure to find way more than you need & you can see a unique part of Kansas City.
The weekend is the best time to hit the West Bottoms as all the shops are in full swing.
The River Market (& Pigwich)
If you're a Kansas City native, you know about Pigwich. They have the BEST sandwiches in town.
If you're in the mood for breakfast…try Thou Mayest Coffee Roasters in the River Market or eat at The Farmhouse. Then, sip your coffee while you shop around the River Market & City Market vendors!
There's also…
Watch a KC Royals game
…& don't forget to tailgate before! You can find the full Royals schedule here.
Explore Downtown on the Streetcar
The weather is perfect to explore downtown in the evening. Hop on (& off) the streetcar to drink, eat, explore, AND exercise. While you're exploring downtown, play board games while sipping on your drinks at Pawn n' Pint. Who doesn't want to enjoy some beer, boards & bites?
If you decide to explore on the weekend, head to the City Market to pick up a few local groceries. Or, try to get a table at a local favorite, The Farmhouse!
Kansas City Restaurant Dates
If you're a foodie or just love to eat, these are the perfect date ideas for you!
If you're looking for a fun weeknight date, Taco Tuesday in KC is always a trusty go-to. There are yummy options around town like Manny's Mexican Restaurant or El Patron are both downtown!
They voted for their favorite secret spots for BBQ in KC. Use our BBQ Map to tour around KC and keep track of which you've visited.
Dinner & Art Date on the Plaza
Dress up for date night and head out to the Nelson Atkins Museum of Art before heading for dinner and drinks at the Country Club Plaza. The Plaza is filled with some of the most fun couple things to do in Kansas City, like shopping, bar hopping, wine tastings, & other local awesomeness.
There are tons of unique to KC restaurants, like:
Best Classic KC Dinner Dates
If you're looking for casual dinner date options, Kansas City is full of hidden gems:
Blvd Tavern is a casual date, but the food is out of this world. They are open for dinner, brunch, & happy hour.
The Peanut isn't that hidden anymore….thanks to those GIANT wings. There are now 8 locations around Kansas City, but the downtown restaurant will always be our favorites.
Do sandwiches sound good? Pigwich is in an unsuspecting spot, but we promise its' ah-mazingg. You can also pick up freshly butchered meat at The Local Pig down the street!
Upscale Dinner Dates
Go Bowling After the Dinner Date
Head out to downtown Lee's Summit for drinks at any of the locally-owned pubs and restaurants. Have a fun date night before heading over to Summit Lanes for some bowling fun.

Pro tip: 3rd Street Social is always a delicious date night in Lee's Summit (and their KC location too)!
Take a Kansas City Barbecue Tour
Get the ultimate KC Barbecue experience with a KC Barbecue Tour – a bus-guided tour spent sampling local barbecue joints.
Sip on a Coffee Tour
The Roasterie -KC's hometown coffee company- offers daily tours showing the brewing basics and the history of the company. You're also able to enjoy a cup together.
Restaurant Hop Westport
Why sit down for an entire dinner date when you can restaurant hop?! Enjoy small bites and drinks at all your favorite local eateries. Some of my personal favorites are
Breakfast at the Farmhouse
The Farmhouse is one of the best brunch spots in KC but be prepared to wait…or get there really early. There are lines nearly every morning – for a good reason!
Or, Grab Coffee Date
Coffee connoisseurs will love Oddly Correct Coffee, with something new & exotic quite often.
If you're in the mood for something a little stronger…
Grab a Drink (or 2) Dates
If you're wanting to go out for drinks, there are many places around KC!
Hang out at a Kansas City Brewery!
There are tons of fun breweries in Kansas City – one of the best couple's activities for summer dates. Check out Limitless Brewing in Lenexa, KS; Red Crow Brewing Company in Olathe, KS; or Transport Brewery in Shawnee, KS.
And check out our complete Brewery Guide too.
A Weekday Wine Date
(Blue Springs)
Wine Wednesday at Colonial Garden
Live music at the Gardens
Charcuterie Boards & other food offerings are sometimes featured. Check their website.
Take a Kansas City Beer Tour
Tour local breweries for a fun date night in Kansas City with these fun over-21 recommendations: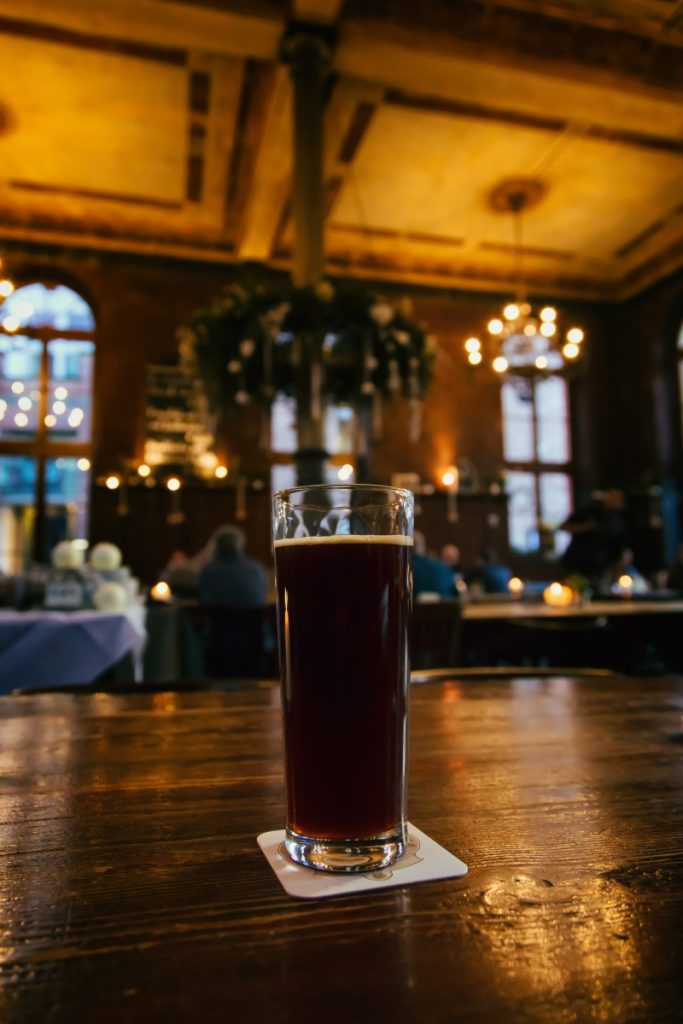 KC Bier Co. (Kansas City)
Crane Brewing Company (Raytown)
Boulevard Brewing Company (Kansas City)

Pro tip: You and your partner can also enjoy a 60-minute walking tour of the brewery, which includes samples in the tasting room. BUT get there early! Must purchase tickets for the tour.
Winedown for a Winery Tour
Take a local winery tour for your date night! These Kansas City wineries are the top date night recommendations from our local readers:
Get Active with your Partner
Get in a workout and a date at the same time! There are other fun fitness classes you can use for date ideas like yoga or tumbling…
This makes for one of the best unique & fun date night ideas. Brownie points for uniqueness! If you don't have bikes of your own…
Anywhere from the River Market to the Plaza, hop on a B-Cycle, Kansas City's bike-sharing program! Ride bikes all day, or for a few hours, they have multiple fee structures.
Find 13 trails & places to ride bikes around town.
Learn to ride a horse at Sunset Stables in Lee's Summit. A private horse ride would be the perfect date in Kansas City. Bonus points for a sunset backdrop!
If you are feeling extra adventurous, learn to wakeboard at KC Watersports. This would be one of my personal favorite, fun date night ideas.
Pro tip: Learn2Wakeboard workshops are Saturday & Sunday mornings, where you can learn to wakeboard for only $15 including the equipment rental! Check their website to check when the promotion ends- Labor Day.
If you are looking to get active & have fun, Chicken n' Pickle is a great option. There are fun yard games, indoor & outdoor pickleball courts & a rooftop deck. Their chicken is delicious…& the atmosphere is even better.
Have a pickleball date night by reserving your own court!
Jump Around at an Open Gym
There are tons of open gym places around KC like Sky Zone in Shawnee & Lee's Summit and Urban Air Overland Park Urban Air in Lenexa! There are open play times at many gymnasiums, so you can goof off together. Explore open gyms around KC.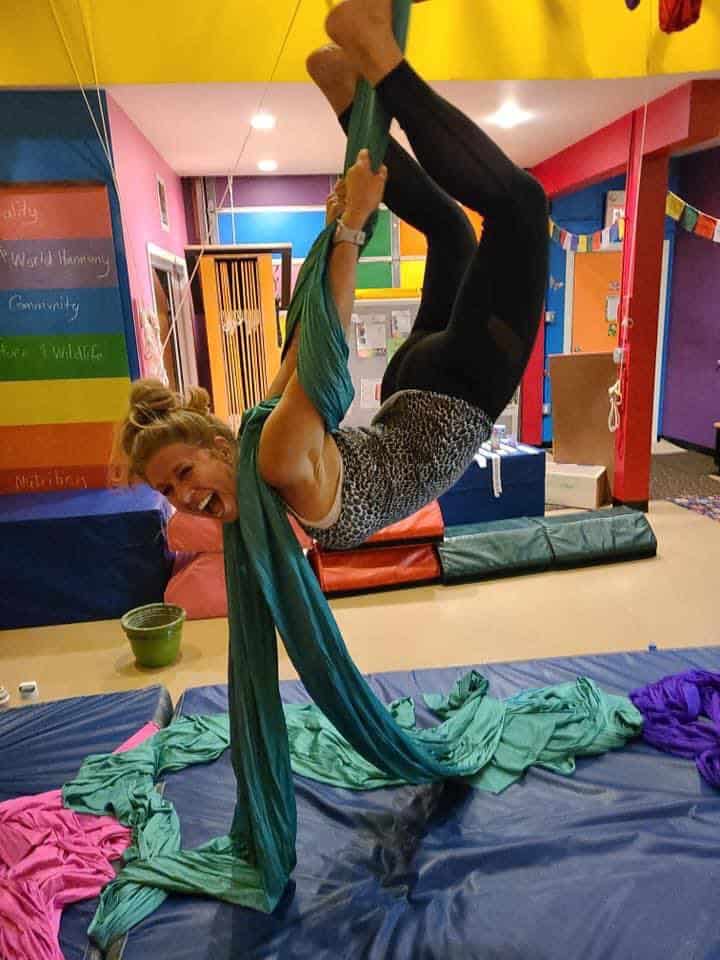 Try out an aerial class at Learning2Fly for a unique date night in Kansas City. There are beginner aerial classes up to advanced classes.
Boxing Classes
Boxing classes can be a fun couples activity too! There are boxing studios all over kc, so find one near you!
Ninja Warrior Course
Bring your kiddos WITH you on your fitness date at Motus Ninja Warrior to run around & get competitive.
Try Your Swing at Top Golf (or a Course)
You can play golf at your local golf course, or head to the range at Top Golf in Overland Park.
Outdoorsy Dates
Have an outdoor date! (once the weather is nice)
Walk, run, or hang out at your local park. Use our Kansas City Parks & Trails Guide to find beautiful outdoor spaces near you! They are perfect for a casual date or to just spend time together.
Loose Park is always a great option.
Powell Gardens is beautiful, why not walk around & enjoy each other's company? …or just sit & enjoy the scenery. There are always great events you can check out too.
If you want to see caves near Kansas City, Cave Springs Park is a unique date idea! It's in Raytown and offers multiple fun things to see there.
Find great lakes & park ideas using our fishing guide or the best parks & trails guide!
Head back to your childhood & climb trees with this company providing Intro to Tree Climbing courses & more. Classes are at Stagecoach Park in Olathe, KS.
Sushi Picnic at the Lake
Grab a Sushi dinner to-go at Mint or your favorite sushi place, pack some drinks, and head to your local lake or park.
Picnic on the Lawn (A Favorite Date Night in KC)
If you are looking for a fantastic view, eat dinner at the WW1 Memorial front lawn. There isn't a better view of downtown KC.
You can also have a picnic on the lawn of the Nelson Atkins for one of the best couples activities in KC.
There are so many beautiful date spots around town!
Create Together!
If you like to make things, these are the perfect dates for you. Whether you like to make art, food, or anything in between!
Take a cooking class for adults at Taste Buds Kitchen in Leawood. Classes include Sushi Making, A Taste of India & more seasonal classes.
Pro tip: You can bring your own beverages to the adult classes. There are BYOB events where you can drink while you're making your meal.
Paint & Sip Dates
Depending on where you are in town there are tons of options to get artsy on your date.
Paint pottery & drink wine while you let your inner artist shine at Paint, Glaze, & Fire or Ceramic Cafe in Overland Park.
If you live more north, there is Lost Arts in Liberty or Pinot's Palette in Briarcliff, where you paint different canvases or wood from directed projects. Check out their full calendar to find your exact date.
Looking for downtown? Art Experience will teach you how to paint while you sip!
Movies, Shows & Theater Dates
If you need ideas on what movie to see, check out our latest movie reviews… there are all kinds of movies
See an Outdoor Show or Concert
There are fun summer shows happening at Starlight Theater, or if animals are your thing, check out a horse show at Longview Lake.
Hot Country Nights is a free summer concert series in Power & Light District downtown. You can enjoy live music from big names in country music Thursday nights this summer.
Movie Dates in KC
Catch a flick at the local movie theater, or hit the drive-in. There are drive-in movies on the Missouri and Kansas sides.
Drive-In Movie Date
If you want to stay in your car, there are multiple drive-ins in Kansas City that make great date spots!
Twin Drive-In: Independence, MO
Boulevard Drive-In: Merriam, KS
Dinner and a movie may be a cliche date idea, but hey there's a reason it's everyone's go-to….
Catch a Theater Show
If you're looking for artsy couples activities, Kansas City hosts many wonderful shows, plays, concerts & everything in between.
Or, Enjoy a Show at The Kauffman Center
From the Shen Yun shows to Harry Potter Orchestras, The Kauffman hosts performances to fit whatever kind of date you're going for.
Get dressed up & head to one of KC's most beautiful buildings!
Laugh Together: Improv Date Night
Improv Comedy Theater in Zona Rosa has funny comedy shows throughout the week. They often host big names that you have likely seen on TV!
The Comedy Club KC. in Johnson County is another great option. They have many show options & tickets are reasonable.
For Fun Lovers & Adventurous Dates
Looking for a unique date? Check these out:
Go Dancing for your Date
The Green Lady Lounge will jazz up any date and is generally regarded as one of the best couple things to do in Kansas City! It's a classic spot, so you can't miss the experience. You'll feel like you stepped back in time with the beautiful jazz music. They do charge a cover fee. Check their website for details.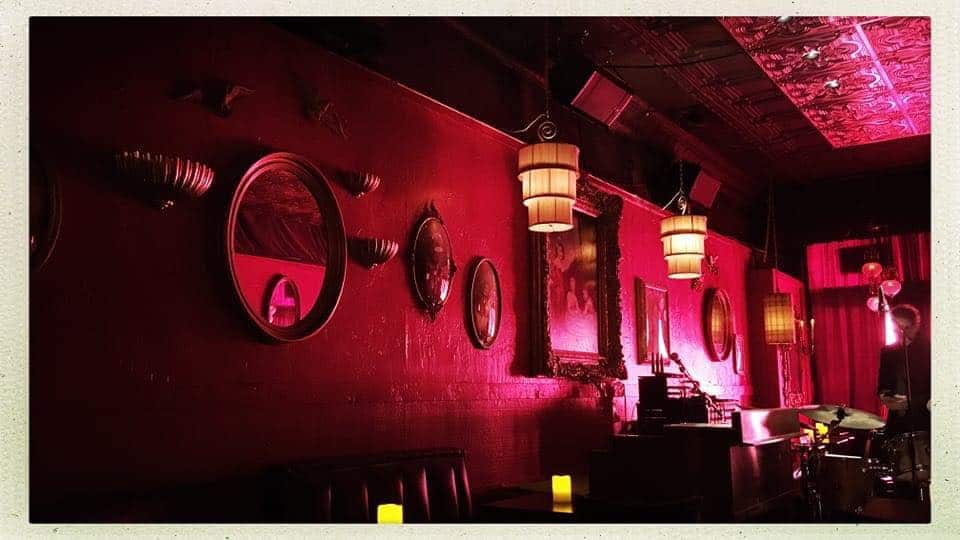 There is never a cover charge & jazz music plays 365 days a year!
Hit the Arcade for a Date
…What is date night without a little competition? Finding fun activities to do together is easy when the bar is filled with games.
Relive the 90s by heading to an old-school arcade. Luckily, they now have bars with arcades inside, so you don't have to play with the kids on date night!
Has tons of arcade games & beers on tap! There is an extensive beer menu filled with local beers & all the games your heart desires.
You're going to love this retro-vibe arcade and bar in downtown Lee's Summit, MO. Enjoy yummy food, and fun games while bringing your friends together for a nostalgic experience.
This downtown bar is the perfect date night spot for arcade games and beer. They also have skee ball and other classic games. Their patio is a beautiful view of downtown Kansas City at night. Be sure to check it out!
This restaurant/arcade combo can be a fun date night since there are so many options! Locations in Kansas City, Olathe, & Independence.
With multiple locations in KC, is a go-to for us – with or without kids. You can eat, drink, AND play! Plus, you can use the points you win to buy food…heck ya!
Pro-tip: Check out their daily deals like half-price games on Wednesdays to save some $$$.
Date Spots with Yard Games
If you prefer yard games to arcade games, there are some great dates in KC for you too…
This Westport bar is a great spot to enjoy the feel of a backyard BBQ with great yard games- corn hole, bocce ball, croquet, and ping pong. Their food is also delicious!
Located in the Power and Light District has an awesome bowling alley, shuffleboard, and beer pong!
If pool is more your style then hit up this spot for pool, skeeball, and pinball.
If you're looking for more of an arcade feel…we've got date ideas for that too.
Or, Play Games at Home!
There are fun couples games you can play at your house for a fun date night staying in, or host other couples for a party.
Race Go-Karts
Who doesn't love go-karts? Whip your kart around on a thrilling date night at K1 Speed coming to Lee's Summit!
If you love a thrill, check out the date ideas below for the adventurous soul.
Go Ziplining!
If you're up for a thrill, check out ZipKC where you and your partner can zip through the trees on an adventurous zip line tour.
Immerse Yourself in Mystery Date
Who doesn't love a good mystery? Solve it together!
Throw Down Axes – Lumberjack Date Night
Ax throwing at Blade & Timber in Kansas City and Leawood will definitely be a unique date night idea.
Get Trapped with your Date, Then Break Out
Try an escape room date at any of the metro area locations! Escape Room KC is in Union Station so it's the perfect spot if you want to make Union Station and Crown Center your date night destination.
Extra idea: Team up with other couples for an extra challenge. This is a great double date night idea!
Take a Segway Tour of Kansas City
Even if you have lived in KC your entire life, a segway provides a unique & exciting way to see the city. Plus, you can build in other fun couples activities while you ride around…
Kansas City Segway Tours have 2 options for your interests, budget, & time frame – Art & Glide or a 2-hour tour of Westport, the Nelson-Atkins Museum, & the Plaza.
If you're looking to spend time making a difference, there are many local charities and organizations that would love your help. We've found 26 places to volunteer in KC for you to explore!
Visit Worlds of Fun
Play with this fun date night idea where you can catch thrilling rides at Worlds of Fun (Kansas City)
---
Take a Weekend Getaway for an Overnight Date Night
Looking to get out of KC for the weekend? Check these out: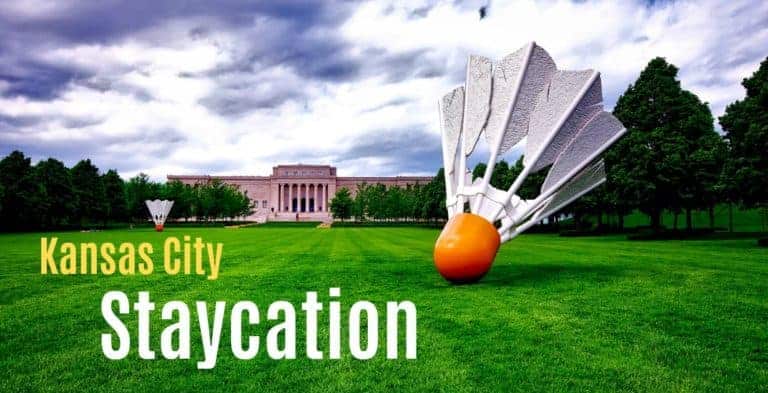 There are many fun things to do and attractions in KC, so grab a hotel for the night & explore your city like a tourist.
If you are looking to get away for the weekend, there are many great places that are a short 3-hour day trip from Kansas City. Check out our Weekend Road Trip Ideas now, including:
Omaha, NE
Eureka Springs- with cute B&Bs!
Weston, Missouri: Drop into Pirtle Winery located in the Weston Historic District for a tasting and tour. In the backroads of Weston is the Green Dirt Farm featuring cheeses, yogurt, and ice cream. Enjoy a cocktail at the McCormick Distilling company on Main Street, or get your barbeque fix at the Tin Kitchen featuring a menu driven by hickory-smoked barbecue meats.
This treehouse is the perfect place to spend the night with your partner!
This glamping tent overlooks a lake, so you can enjoy your morning coffee on the deck overlooking the water!
This is another fun place to stay on an overnight date. If you're needing to get out of the city, it's just a short drive away.
Date Night Box
If you're looking for a date night at home, these date night boxes are a great way to stay at your house and still enjoy some couple's activities! You can get one box or subscribe for monthly boxes. The monthly box helps us remember to have a date night…
Fall Date Night Ideas
We asked the iFamliyKC Parents FB group for their favorite Kansas City fall dates! Check out local recommendations for a great fall date:
Pick Apples at a Local Apple Orchard
Have some fall fun and pick a snack at the same time! There are many apple orchards surrounding the metro, so no matter what part of town you are in there are options.
Explore apple orchards near you now.
Or, Picnic at a Winery
If you live on the Missouri side, Albonee Country Inn and Vineyard is in Independence! Or, KC Wine Co. is a fun winery in Gardner, Kansas.
The Northland also has a great winery – Rowe Ridge Vineyard & Winery.
Take your Dog to the Dog Park
There are tons of fun dog parks throughout Kansas City, so play with your furry friends on your date!
Head to a Haunted House
If it is Halloween time, head to the West Bottoms haunted houses for a good scare. Take your pick from The Beast or Edge of Hell.
Winter Date Ideas in KC
When the months are cold, date ideas can be harder to think of. We've got some fun date night ideas for wintertime in Kansas City!
Play indoors at one of the date nights listed above, or take a cooking class – Taste Bud's Kitchen offers tons of Winter-themed meals, or check out these:
Go Ice Skating!
There are tons of great places to skate around town, like Crown Center Ice Terrace.
Christmas Light Drive
Sometimes, a date night can be as simple as a car ride together. Check out Christmas Lights around town with our KC Holiday Light Map.
Hit the Slopes in KC
Ski, snowboard, or tube at Snow Creek to have a little Winter fun on date night!
Snuggle by the Fire
Watch a movie, drink hot chocolate, wrap gifts, or just have a chat. The fire is the perfect place to relax on a date during the Winter months. Plus, you don't have to leave the house!
You can find MORE Winter Dates ideas if you're looking to celebrate the season together!
How to Keep Your Kids Occupied on Date Night
When you have kids, the idea of organizing date night is a mere fleeting thought before clearing up their latest mess (especially if you can't find childcare). As much as we love our children, they take a lot of looking after — and leave very little free time for the joys of couplehood.

But with that being said, it's not impossible to go on a date and take care of your parenting duties. Here are a couple of possible solutions:
Consider a kids' activity box: these mystery packages give your children a fresh distraction every month (like finding out what's inside the box), which could conveniently coincide with a home date night.
Separate movie marathons: watching separate movies — one for yourself and another for the kids in a different room — is a great way to create a little space. Especially if you use parental controls to give your children a sense of independence (this way they can choose from a list of appropriate movies).
Don't worry! Enjoying date night with kids isn't as hard as it looks, it just takes a little more ingenuity
Did we forget a great date idea Kansas City has to offer? We'd love to hear! Send us an email with details.
If you didn't find a good date idea for you and your partner, check out these 33 fun things to do in KC…
With some much going on daily in Kansas City, there is no reason you can't find the perfect day date or night date. We hope these fun date night ideas gave you some inspiration for your own fun dates.
Be sure to click below to get THE SCOOP from iFamilyKC, so you don't miss a thing! You'll get our Weekend Planner sent directly to you each week with things to do this weekend in Kansas City. Plus, you will get invites to exclusive events & discounts. Don't miss this great resource!
From our family to yours, iFamilyKC.