Fairy Tale Treehouse Near Kansas City Winery! (Perfect for an Adult Overnight Trip)
If you're looking to get away from KC for a day or two, there is a magical little spot near Excelsior Springs.
…a treehouse!
It's a great place to stay overnight with your significant other that isn't too far from town. To have a little adult alone time, check it out below:
Create Your Own Magical, Fairytale Getaway
Just 5 minutes from downtown Excelsior Springs, you can live like Christopher Robin in your own treehouse!
The magical AirBnb is surrounded by a beautiful 200-acre wood ranch with a 15-acre private lake – perfect for swimming, kayaking and fishing. If you're a couple that love the outdoors, this is the place for you!
Escape to the simpler life inside this secluded tree house for two. This is one bedroom, so it's the perfect cozy place for you to get away for a romantic night.
Inside you will find a plush queen bed, small desk, reading chair and lamp. A lithium generator is provided for the lamp, phone/tablet charging and ceiling fan for keeping cool.
The 3 windows open to let fresh country air in and are screened to keep the bugs out.
For the chillier months, there is a small wood stove that keeps the treehouse nice and toasty. The stove requires special cut smaller firewood, which the on-site owners have for purchase.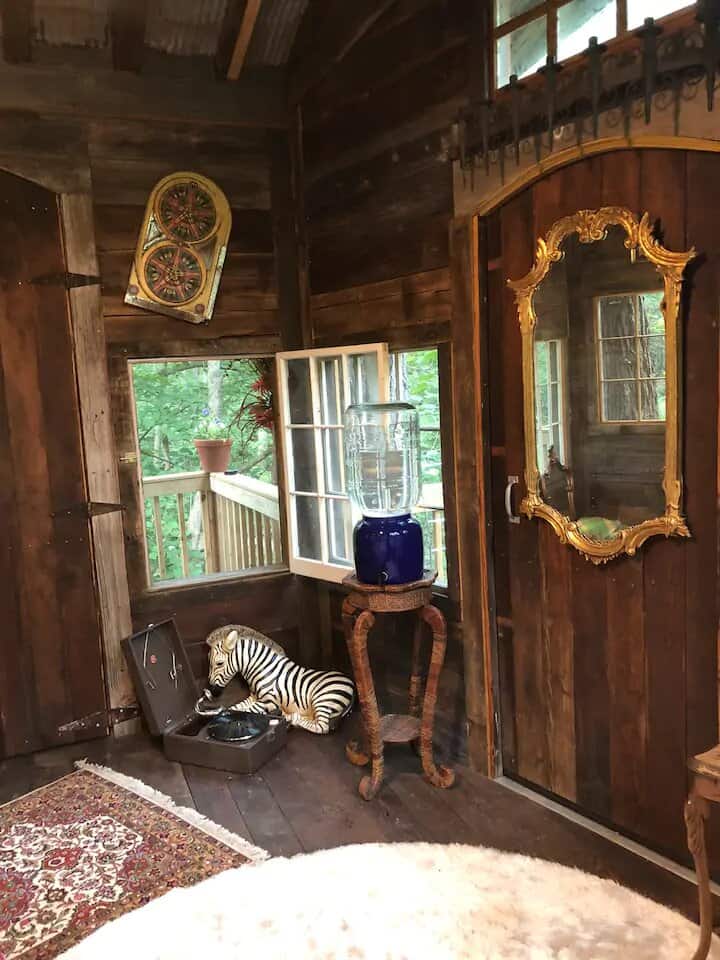 If you're worried about being far from your morning coffee spot, they've thought of that too!
A French press is provided and you can enjoy your morning coffee as you take in the peaceful wildlife scenery at a bistro table on one of two cozy verandas.
The decks are the perfect spot to take in the beautiful outdoors!
While the entire spot is run on generators, there is also a full outhouse on-site.
The upgraded, charming outhouse has a modern composting toilet and foot pump sink with soap and is solar lit inside and out. It's a truly unique experience for outdoorsy couples!
If you drive a nicer vehicle or one that doesn't do well with off roading, the owners have thought of that too!
They're happy to drive guests and their belongings by ATV down the gravel road that leads to the treehouse, available before 7 pm and pickup after 7 am.
Things to Do Near Excelsior Springs
In addition to the lake for swimming, fishing and kayaking there is also a small city nearby.
Wineries
If you decide to venture into Excelsior Springs during your stay, there are 2 wonderful vineyards and wineries close by. This is the perfect spot for an adult outing to spend quality time together.
Each features breathtaking views and pleasant wines!
Four Horses and a Dog is located at 15010 Salem Road, Fence Stile Vineyards and Winery is at 31010 W.124th Street. Both are highly rated and recommended.
If you want to walk around, check out Tryst Falls Park for a small waterfall and walking trail around Excelsior Springs.
No matter what you choose to do during your stay, it's great to get away from your kids for a night and remember what adult conversations sound like.
This magical treehouse is wildly popular, so we recommend booking right away if you'd like to visit.
If you decide to stay, we hope you have a great time with your family!
Looking for other fun places to stay near Kansas City?
Know of other unique AirBnbs? Drop them in the comments so we can let families know about them. It's always fun to get away for a night…or weekend.
From our family to yours, iFamilyKC