Best Halloween Party Ideas for Kids (How to Throw Kids Halloween Party)
Halloween is fast approaching, which means it's time for a party. We made it easy to plan Halloween party ideas for kids!
Preparing costumes, stocking up on candy, and decorating your porch is hard enough without having to plan a Halloween party.
So… let us help with your kid's Halloween party! Check out our best ideas for your spooky season parties this year…
Disclaimer: iFamilyKC is supported by its readers. When you purchase through links on our site, we may earn an affiliate commission. THANK YOU!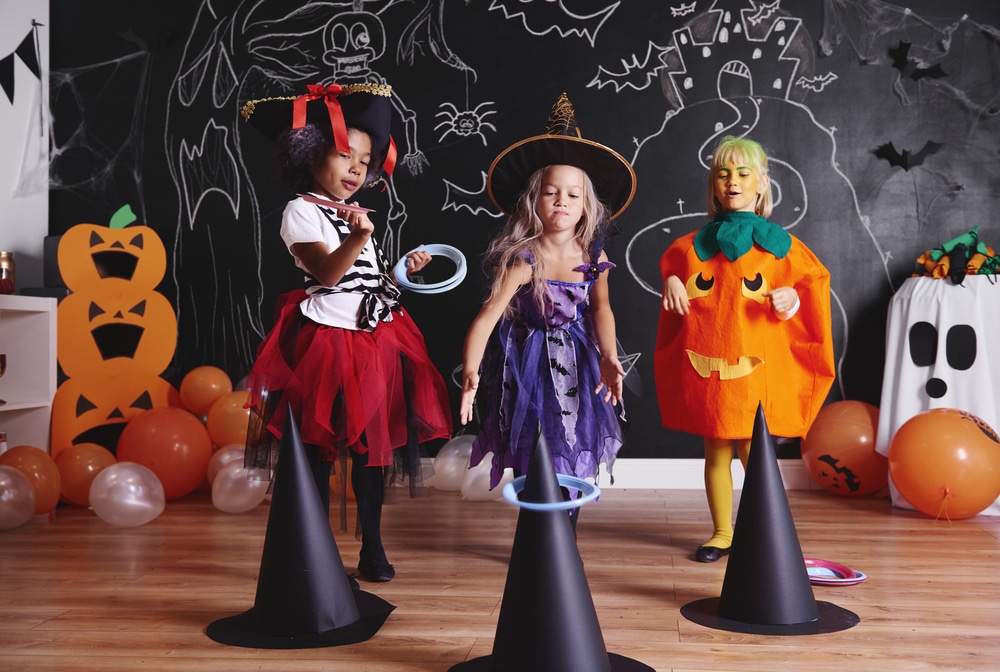 Best Halloween Party Ideas for Kids
You want to throw a Halloween party, but it can't just be a bowl of candy sitting on the table and a couple of plastic spiders lying around. 
So, check out our quick steps for how to throw a Halloween party!
Whether you're hosting a Halloween party in your home or you're helping in your child's classroom Halloween party, you're in the right place…
Halloween Games & Activities | Halloween Treats | Halloween Crafts | Halloween Decorations
1. Pick a Theme
Picking a Halloween theme can be tricky. Think scary, think kid-friendly, and think about what my kids are dressing up as this year—all idea starters.
Just make sure that you carry this theme throughout the whole party. And how big you go is all up to you.
I have thrown some parties that are simple—a kid-friendly witch and warlock party—and I know some of my neighbors have gone all out to build a crashed UFO in their front yard!
Some fun Halloween party theme ideas include:
Hocus Pocus Night
Fright Night
Halloween Drive-In Movie
It's the Great Pumpkin, Charlie Brown
The Nightmare Before Christmas
Coraline Night
Hotel Transylvania
There are honestly so many different themes to choose from. Start with what your kids love and go from there!
If you are hosting a Halloween party at home, you will also need invitations…
2. Next, it's All About the Invites
This sets the party theme in obvious ways!
Pinterest is our friend, repeat, Pinterest is my friend! Search for "your theme" invites and a ton will pop up. Pick a design you like and then recreate it; but do it on PowerPoint– much cheaper and easier!
Make sure you answer the 5 W's (who, what, when, where, why). I like to take a screenshot of the slide and then copy it into email, again much cheaper and easier! If you are so inclined, or if you don't have everyone's email, feel free to post on Facebook as well.
3. Choose DIY Halloween Party Games & Activities
DIY Halloween games are a great way to celebrate parties at school. Most of the time they are cheap and use items that you can find at home such as ghost bowling.
Escape Room Adventure (at home!)
Escape room games are the perfect 'main event' for any kid's Halloween party. You can transform your home into a live escape game experience using a few combination locks, some dollar-store props, and a little craftiness. Or, just grab one of these printable escape room kits. They handle all the hard work for you.

For large Halloween parties, you can divide the kids into teams and have them race to see who can finish the game first. Even if they lose, kids always come out of the experience smiling. This is what makes escape room games the most memorable Halloween party activity of the year!
Ghost Bowling
Items: bowling pins or empty water bottles, crepe or toilet paper, googly eyes or black paper, and a small ball. The kids can even help prepare for the activity.
Bobbing for Donuts
If you are looking for funny Halloween activities, tie one end of a string around the hole in a doughnut and the other to a tree, or use a shower curtain rod if you are inside….
See how fast your guests can eat the doughnut without using their hands—an updated version of bobbing for apples!
Get Active
You can also make it an active Halloween by adding in some kid's activities to get them moving. You can do a Halloween dance party, story yoga, spider parachute toss, zombie tag, or a variety of other exercises that will be fun to get them up and moving.
These activities are geared toward PE teachers but they would work well out on the playground too!
If you are looking for different Halloween games for kids, we've got you covered. You can also consider purchasing games from your local party or toy store.
4. Halloween Treats for Party
If you are looking for unique Halloween treats, check out 12 yummy snack ideas, and a complete article with pictures!
Of course, Halloween is nothing without candy and sweets. Play up the pumpkin-themed cookies or cupcakes and don't worry if they are store-bought, take them out of the box or container and put them on a plate and no one will ever know!
If you find that all the pumpkin cupcakes are gone from the bakery at your local store, no worries just get some plain cupcakes (iced but no décor) and decorate them with candy corn in the shape of pumpkins and half an Oreo cookie to represent the moon in your Great Pumpkin theme!
Non-candy Halloween treats are a delicious and healthy idea for the classroom party.
Check out these 83 Halloween Candy Alternatives for the classroom for ideas. Or, looking for unique Halloween snack ideas for the classroom? Check out these 12 Halloween-themed treat ideas that kids love!
There are a lot of fun and healthy alternatives that can be made at home and sent in without giving every child a sugar buzz. Mini mummy pizzas, ghost bananas, and spider crackers are just a few ideas to get you started.
If you need inspiration for Halloween snack ideas, we've got you covered!
For drinks, apple cider is a must, have that simmering in another crock pot or on the stove at very low temp—it will double as that great fall scent that will greet your guests as they come in.
5. Halloween Crafts for Kids: Get Artsy!
Halloween crafts are usually a winner at school parties. We've featured some ideas below. Sometimes buying cute Halloween decorations from the store can get pretty pricey, so make them at your Halloween party!
Kids can feel proud taking home their new creations to display at home. Check out these ideas for Halloween decor you can make at your child's party…
Kids love things that are hands-on and it's also the best way to teach little kiddos new skills. You can find Halloween craft ideas that are simple to create and sure to be fun for the Halloween school party!
Check out these Halloween craft ideas for kids – perfect for your classroom Halloween party!
> Paint Pumpkins
Carving pumpkins is a fun Halloween tradition, but can be dangerous for kids to do on their own. An alternative that gets the kids involved and allows them to show off their creativity is painting the pumpkins!
Decorate mini pumpkins using our 36 No-Carve Pumpkin Decorating Ideas.
You can add more detail by gluing on googly eyes, rhinestones, & hair!
> Halloween Handprints
Kids love it when they can get their hands messy, so hand and footprint art is always a hit! Not only is this fun, but they're great keepsakes to remember their little fingers and toes. 
Plus, it's a versatile Halloween craft – so many themes can easily be made by hand and footprints.
Handprint ghost: Use white paint and an upside-down foot or hand on black paper.
The perfect pumpkin: Use a fisted hand dipped in orange paint.
Make spiders or bats: Use black paint and both hands and your fingers will be the legs/wings!
Candy corn: Use yellow, white, & orange paint to make stripes on the hand.
After the paint dries you can go back and use markers & crayons to add details, such as faces & stems!
> Milk Jug Ghost Lanterns!
First, collect a group of gallon milk jugs and clean them out. Next, use a black marker to draw a spooky ghost face on the front of the jug. Cut the back side of the jugs off, Line the jugs up outside or in a window. Lastly, use a string of lights and place them in the openings in the back of the jugs. This project looks great especially when it gets dark.
> Candy Corn Traffic cones (They make mini cones too!)
You can find miniature traffic cones at Wal-Mart or Amazon for pretty cheap. Just add the yellow and white! You can do this in numerous ways whether it's paint or colored tape. These candy corn pieces will look great around the house or in the front yard!
> OR Make your Own Treat Bags as a Craft!
Rather than passing out treat bags to trick-or-treaters or making them for the kid's Halloween parties, have them their own for fun Halloween activities. Here are a few fun creative ideas for treat bags!
Candy People
This is such a simple and cute idea that kids will absolutely love! Not only do they get to help assemble the people, but they also get to play with them like a toy, and eventually eat the candy. What you will need are a glue gun and some assorted candies. Use a pumpkin lollipop for the head, boxed candies such as nerds or dots for the body, and long, skinny candies such as tootsie rolls, smarties, and Twizzlers for the arms and legs!
Popcorn Hands
This is a simple Halloween treat that the kids will really get a kick out of!  Get a box of disposable plastic gloves and drop a piece of candy corn in each finger hole as the fingernails. Then stuff each glove with popcorn and tie the bag closed with something like a trash bag tie. To add more detail to the treat get a pack of plastic spider rings from the dollar store and place them outside on the fingers!
Decorate Trick or Treat Bags
When trick or treating kids will need something to carry their candy in so why not make it into a fun activity?  Making their own bags is a great way to get in the Halloween spirit and express their creativity. You will need some sort of blank container whether it's a plastic bucket, a felt bag, or just a paper bag with a handle. For decorating you will need markers, crayons, paint, various decorations, and any craft supplies you think will be fun to use. Spread all the supplies out on a big table and let the kids decorate their bags however they want whether it's Halloween-themed or made to go along with their costume they are sure to have a blast!
6. Halloween Party Decorations
Pinterest is still our friend! It will give you plenty of ideas to take things from around the house to make into decorations.
If you are going to show a Halloween-themed movie, take ideas from that movie and work them into decorations.
It's the Great Pumpkin, Charlie Brown has some great décor. Lots of pumpkins, a big moon, a polka dot sheet, or yellow with black chevron stripes for the tablecloth will really tie in the Charlie Brown theme.
> Create a Pumpkin Patch
You can also make a pumpkin patch; this will tie into Halloween party games.
Place pumpkins on a green plastic tablecloth and cover with fake (or real if you want a use for all those in the yard!) leaves to make your patch. If you are feeling really creative, cut a piece of cardboard or poster board to make a fence for the backdrop and a moon to hang above the patch.
It's a great decoration, but also the source of some great crafts and games.
Use the pumpkins as blank canvases and have the kids or adults glue on decorations to make a spooky pumpkin smile. This will triple as a favor to take home as well!
Need a little more convincing to make the pumpkin patch? You can also use it as a photo op. Great memories and a favor to go home with your guests!
7. Every Good Ghoul and Goblin Loves to Read
Get those kids reading with Halloween-themed books and songs.
Fortunately, there are books out there for all ages at the school library or book fair. You can do buddy reading or group story time. You can make it more fun with puppets, and finger plays, or let kids act it out and tell the story to each other. The more participation that is included, the more fun it will be for everyone.
Find a full list of Halloween books online!
8. Find the Perfect Halloween Costumes
Once you've decided on your theme, activities, snacks, and decor, you've got to find just the right costumes for the kids and maybe even mom and dad! There are so many options, superhero costumes are a beloved classic, and new and trendy ideas are always fun too. Getting the right kid-sized costume is imperative so the kiddos are comfortable and safe while walking and playing.
There you have it!
Planning a Halloween party in 5 somewhat easy steps! The most important thing is that you and your guests have a great time; share some laughs and enjoy the spooky season.
We hope you find some of these ideas useful for this year's Halloween party! Even though parties may look a little different, you can still have a party at home!
Make sure you're registered to receive our eNews with tons of ideas and resources.
Happy Halloween!
From our family to yours, iFamilyKC