24 Weekend Getaways, Road Trips & Day Trips from Kansas City
If you're looking for short road trips or fun day trips from Kansas City, there are great spots all over. We know you don't want to drive too far…
But, there are easy weekend getaways nearby! Just a quick 3 (ish) hour road trip with the family.
Whether you want to explore the outdoors, find mini vacation spots, or just find things to do in new cities, there are places for everyone to go. We hope your family enjoys these fun day trip ideas for kids! If you're looking to stay closer to home, check out our Staycation Guide too!
Disclaimer: iFamilyKC is supported by its readers. When you purchase through links on our site, we may earn an affiliate commission. THANK YOU!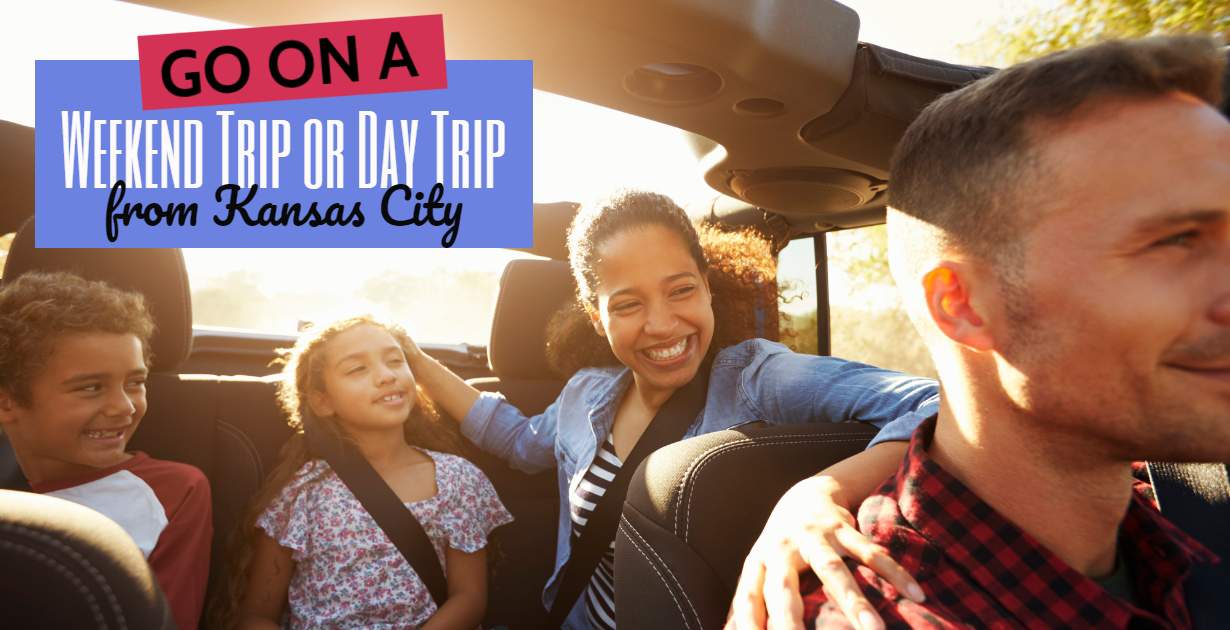 We're big fans of getting out of town for a few days…but where to go? How far can kids realistically ride in a car?  Kids can make it 3 or 4 hours, and then the questions begin and the movies get old. So we gathered the below list of destination ideas and resources for you!
Pro tips: keep the kids happy with their own travel snack boxes for the road. Grab some travel wipes to keep the messes at bay. Plus, any time you're on a road trip, a dashcam is a great insurance policy.
Best Road Trips from Kansas City!
There are 24 fun road trips from Kansas City, all about a 3-hour drive. These vacation ideas are perfect for a weekend getaway near Kansas City:
As you head out of town, you might consider having even a small simple security camera to keep an eye on things while you're gone. Peace of mind, while you're on your trip, is invaluable!
Day Trips from Kansas City
If you're looking for fun day trips from KC, or better yet a weekend adventure, this is for you! Get your family out of town…even if it's just for a weekend trip!
---
---
---
Plan on staying the night in either The Crescent or The Basin Park Hotel. Both have their share of ghost stories, but their true draw is how they pull you into the vintage feel of the city. I have stayed at both but I don't think got an ounce of sleep because the lights were always on and I was constantly checking under the bed!
Where to Stay:
At nearly 4 hours away from the city, you'll want to stop for a good night's rest before you head back to KC. Here are some of the closest options:
The Exploration Place, a science education center, is also filled with fun kids' activities and things to do. Your kids will explore a variety of hands-on activities & exhibits…think of it as the Science City of Wichita. Check out the Exploration Place calendar of events to see what's happening while you are there.
There is also the Sedgwick County Zoo, the Botanical Gardens of Wichita, and the Cowtown Museum, which has FREE admission on Sundays from noon to 5 pm. Also, be sure to visit the Keeper of the Plains statue!
Wichita also has its' own amusement park, All-Star Adventures! There are go-karts, bumper boats, mini golf, slides, kiddie copters, a driving range, and other fun family activities. You can find other fun things to do with kids in Wichita easily too!
If you are looking for other fun things to do near Wichita, KS check out the Wildlife Park below!
Where to Stay:
Depending on where you're planning on exploring, there are great options all over the city:
---
In addition to the history, there is a beautiful state park – Meade State Park. There is a 360-acre area filled with wildlife, as well as campsites and a lake.
You can camp or fish at the lake with your family to enjoy the great outdoors!
Where to Stay:
If you don't want to tent camp, there are other places in the area to stay overnight:
---
There are also beautiful state parks like The Eugene T. Mahoney State Park, which features a suspended ropes course in the trees. There is also a pool, wave pool, splash park, horse riding, mini golf & disc golf, Venture Climb rock climbing & other unique activities. This park has more to do than almost any we have seen…
---
Check out our St. Louis Road Trip guide for more ideas of things to do in St. Louis. You could fill an entire weekend trip with these ideas!
Crown Candy is definitely worth a visit. This is a century-old Soda Fountain restaurant that is a St. Louis classic. You will feel like you stepped back in time to 1913 as soon as you step in their doors.
After you try their candy, ice cream & delicious food…it's game over. Their hearty BLT is stacked to the brim (overflowing really…) with yummy bacon! There are also some delicious donuts at O'Fashion Donuts. Head to The Hill and enjoy some great Italian food at the many restaurants located there.
There are cute stores to shop, yummy restaurants to try, & even an indoor adventure playground for the kiddos. You can also visit the winery if it's more of an adult-only road trip!
Where to Stay:
If your family likes the outdoors, there are many great parks & hiking trails like Rock Bridge Memorial State Park, Finger Lakes State Park, Stephens Lake Beach & Park, or Capen Park.
Finger Lakes State Park is probably the most unique thing you can do, with trails for ATVs, motorbiking, & four-wheelers. There is also a lake where you can go scuba diving, swimming, fishing & non-motorized boating. You can rent kayaks & canoes at the park, so all you have to bring is your family!
Also visit the Shelter Gardens, a 5-acre botanical garden that is perfect to take a stroll…
Best Food in Columbia, MO:
If you're looking for healthy options, try the Main Squeeze Natural Foods Cafe, which is rated very highly. If you're in the mood for good-old deliciousness, try Just Jeff's Street Food, they have two locations.
They supposedly have the best chili dogs in all of Columbia. Addison's is also a yummy place to try. Their nachos are our favorite! You can't go wrong by stopping for a pizza at Shakespeare's Pizza, a Columbia tradition since 1973 with 3 locations.
Columbia, MO 65203
(2 hours, 6 minutes)
If you're looking to get away from the city…this is the place for you. There are miles and miles of nature to be explored – the perfect place for a nature weekend getaway. Plus, the shorter drives make this one of our favorite day trips from Kansas City…
There is the Katy Trail State Park, which provides trails to bike, hike, or even ride horses! You can also explore other regions of the conservation area with fishing, hiking trails, camping, bird watching & other fun outdoor activities.
---
Looking for more unique day trips from Kansas City? This safari is just minutes away from Springfield, MO. (See our Springfield Guide below). How about a wildlife excursion…it's a drive-thru animal safari in the middle of Missouri! There are over 450 animals for your family to come to visit.
While there is not a ton to do, the Safari is definitely a unique experience that makes it worth the day trip drive from Kansas City. Make it a short getaway with an overnight stay for the family all together!
(2 hours 40 minutes)
Things to Do:
Shop the original, and one of the largest, Bass Pro Shops! Explore the incredible caves of the Ozarks or go on a safari at The Wild Animal Safari in nearby Stafford, MO.
Where to eat:
Find your favorite style of cashew chicken at one of these places on the official Cashew Chicken Trail.
Step back in time on Route 66 and grab a burger at Red's Giant Hamburg or eat at a classic diner like Casper's.
Use these Tips for Traveling with Kids to pass the time faster and make your road trip more enjoyable. There are fun car games & tips to keep your family safe.
Looking for other fun places to stay near Kansas City?
If you can't get out of KC, check out:
Pro tip: make your driver comfy for these family road trips. We love these beaded seat covers to keep you cool and comfortable.
What are some of your favorite places to visit near the metro? Let us know in the comments!
If you want to stay up to date, click below to join THE SCOOP! Get it delivered right to your inbox!
From our family to yours, iFamilyKC