Plan a Branson Family Vacation: Things to do in Branson MO with Kids
Looking for your next family vacation? There are tons of fun kids' things to do in Branson.
Find cool Branson shows, museums, themed restaurants, and good ole' fashioned family fun!
Plus, Branson is only a 3-hour drive – making it the perfect family road trip.
Kid Things to do in Branson
It is the perfect place to take your kids for a long weekend or a mini family vacation. Check it out. Be sure to get the scoop delivered right to your inbox, so you don't miss a thing!
Looking for places to stay? Check out these cabins near Branson!
A short 3-hour trip from Kansas City
We gathered our favorite things to do, just for you! Find the best things to do in Branson with kids, so you have a fun-filled family vacation.
Has your family taken a ride on a fully working train? Be sure to ride the 40-mile round-trip train ride, so you can see all of the Branson foothills. Experience what train travel was really like back in the day. This is a really fun thing to do with kids.
This holiday season, they will be running the Polar Express Train, so be sure to grab your tickets before they sell out!
Think of this as the Disney World of the Midwest.
This is probably one of the most popular things to do in Branson. The amusement park is themed in 1880s fashion, with all park employees dressed in old-time costumes. There are rides big & small to suit every age. There are even miniature rides in the Kid's Area!
The park is filled with kids' activities. There are rides, restaurants, shopping, shows, classes, demos, & so much more.
Silver Dollar City produces its own shows too! Their shows win awards every year for their outstanding production. You can see shows inside the park without having to pay extra for the show tickets. Be sure to check the Silver Dollar City calendar for current festivals happening inside the park.
Pro Tip: You can buy discounted Silver Dollar City tickets at ticket outlets, your hotel, or some Price Choppers. You can even get a FREE visit with your GetOut Pass
See a Branson Show
This city is famous for its Branson shows. There are TOO many shows to list. There are unique Branson shows like the Dolly Parton Dinner Stampede, the Shanghai Circus, and the Branson Belle Showboat, which takes you on a boat ride & dinner show.
Other shows like Sight & Sound Theater are great for kids. The sight & sound shows focus on religious themes and feel like a Disney production. The tickets are a tad expensive if you are taking the whole family, but the production value is definitely worth it.
Our family loves The SIX Show. We have seen it twice now, and have loved every minute of it. Our family can have trouble finding something everyone in the family genuinely enjoys, but this was it! The show is 6 brothers who have been in a group since they were kids! Each brother has their own color that represents them. They even have cars to match their specific color!
Pro tip: Check with your hotel to see if they offer discounted tickets. Most hotels, motels, and condos have a ticket counter with specials on everything to do in Branson.
Branson Museums
In my opinion, museums are one of the must-do things to do in Branson. The Titanic Museum is an actual ship hitting an iceberg and is highly interactive for both adults and kids. When you enter the museum, everyone gets a person who was actually on the Titanic. At the end of the museum tour, you get to learn what happened to the person you were assigned. There is even an exhibit with water that is the exact temperature of the Atlantic Ocean when the Titanic Sank!
There are also other types of museums, like the World's Largest Toy Museum, Ripley's Believe It or Not, the Branson Auto & Farm Museum, or the Hollywood Wax Museum, where you can see famous wax figures from throughout time.
Tanger Outlet & Other Shopping in Branson
This might be one of the parent-things-to-do in Branson.
Branson is filled with outlets. The Tanger Outlets are a fantastic way to stock up on kids' clothing without having to pay full price! While this may not be the best thing to do with kids, it is totally worth it. Every time we go to Branson, we hit the outlets to get new wardrobes for the kids. How can you beat HALF OFF?!
Find a list of Tanger Outlet Stores here.
Branson also has other fun shopping centers like the Branson Landing. This is not an outlet mall, but it is an outdoor shopping center with a fun fountain light show every night. It sits right on the river, so it has beautiful views for dinner or just walking around! There are also tons of great restaurants at Branson Landing.
Your family can ride the ducks in actual military vehicles that drive on land AND water! The fun ride around Branson gives you a tour of things to do in Branson as well as the beautiful lake. The kids are given the chance to pilot the boat and earn an honorary captain's license!
Disclaimer: They give the kids these little whistle "quackers" that were super fun for the kids, but drove me crazy. I tucked those in my bag rather quickly after the ride was over!
White Water
If you want to cool off, White Water is a fun water park for kids. It was voted one of the best outdoor water parks in the U.S. by USA Today. The park has many water slides and other fun things to do inside the park, including a wave pool and racing slides. The giant water slide you see when you drive into Branson is part of White Water.
Pro tip: You can buy a combo ticket of Silver Dollar City, White Water, or the Branson Belle Showboat to get cheaper tickets.
Go Karts
There are go-karts galore in Branson! Your family can race on 4-story go-kart tracks to see who is the best driver, or try their smaller tracks for younger kids. There are HUGE tracks, small tracks, kiddie go-karts, rookie karts, & adult go-karts, so everyone can participate. Check out The Tracks Family Fun Center for a wide variety of kids' activities and things to do.
Go-kart places offer many other things to do like bumper boats, arcades, batting cages, laser games, kids' rides, carnival games, and Ferris wheels.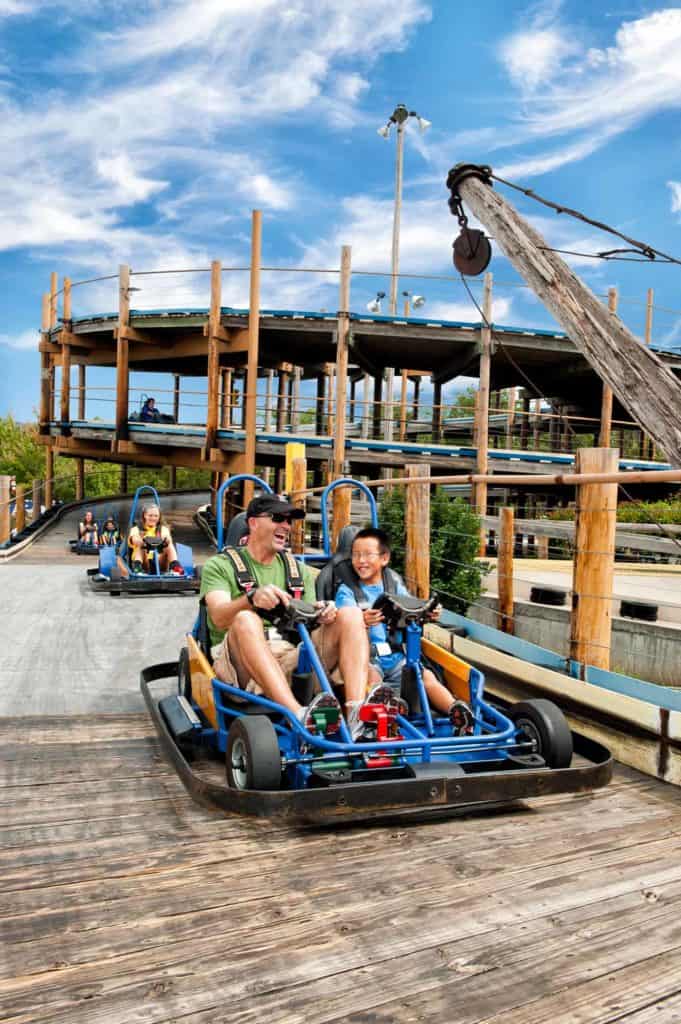 This old-fashioned shop will bring back the memories. Find all the candies, trinkets, and toys from when YOU were a kid and beyond! My grandma was even able to find some candies she hadn't had since she was a girl. Be sure to stop in and take a trip down memory lane!
Branson Zipline
If you want to swing through the trees, check out Branson Zipline. They offer many different zipline packages to fit your family's needs. You can also do the 40-foot free fall or team-building activities!
The Butterfly Palace
The Butterfly Palace is one of the hidden things to do in Branson. When you enter the aviary, you are given a hat, a magnifying glass, and a vial of nectar to attract butterflies to you. We spent a long time watching the butterflies, identifying the different types and trying to catch them.
Branson Restaurants
There are too many Branson restaurants to try in one family vacation.
Pasghetti's Restaurant is a fun little place with good Italian food! They have a mini-Ferris wheel and a small arcade for a small fee. You can't miss the enormous spaghetti and meatball with a fork stuck in it at the entrance to Pasghetti's!
Be sure to check out the other great Branson restaurants where you can literally feel the love. Your kids will be sure to love Cakes-n-Cream, a 50's diner, and dessert bar. They have the best old-fashioned treats! Or, try Billy Bob's Dairyland in an old gas station. You will find delicious homemade burgers and fried pies here. The best in all of Branson!
Branson Money Saving Tips:
Always check with your hotel or condo to see if they offer discounted Branson show tickets
Buy discounted Silver Dollar City tickets at Country Mart
On the way to Branson, we stopped in Springfield, MO to check out Fantastic Caverns and Lambert's Cafe.
Fantastic Caverns is the only ride-through cave in America. It is well worth stopping in Springfield to see the beautiful formations and to hear the fascinating story behind it!
Lambert's is "home of throwed rolls." The food is home-cooked and delicious and yes, they actually throw rolls at you while you eat!
Branson is a 3-hour trip from Kansas City, maybe 4 hours, depending on what area of town you live in. I tried to make sure my kids had plenty to do while on the road, like toys, books, and activity books.
This is just the tip of the iceberg when it comes to things to do in Branson, MO. I know my family will be going back to Branson in the very near future to see and do more of the cool things the town has to offer! We hope your family enjoys these kids' activities on your family vacation.
Have you taken a family vacation or a day trip to Branson? Do we have your favorite thing listed here? If not, drop us an email with details, and we can get it added to our Branson Guide!
We've also got Guides to these family fun destinations too:
Stay tuned to iFamilyKC for the latest and greatest on things to do and places to go with kids. Be sure to click below and sign up for THE SCOOP, so you can stay in the loop for all things family & kids!
From our family to yours, iFamilyKC.