25 Best Event Venues in Kansas City
Your Guide to KC Venue & Event Spaces
Everyone wants to make that celebration, party, get-together, shower, annual event, or meeting "one to remember". So we've done the digging for you. We've got your complete guide to the best event venues in Kansas City.
Outdoor or indoor. Catered or an established restaurant/bar. Fancy or relaxed. Large or very small. Urban or rural. Spacious or intimate. And everything in between. The possibilities are endless.
You could be planning a family reunion, wedding reception, baby shower, birthday party, anniversary party, bachelorette party, bachelor party, or maybe a work team building event.
Your needs are of course different depending on the event, season, and age group you are serving. Sometimes you just need something convenient and inexpensive. Sometimes you want an over-the-top experience for attendees at a memorable venue.
Since we are a family-oriented operation, let's start with spaces that accommodate events like birthday parties, end-of-season team celebrations, and baby or bridal showers.
The party room at your local play place or neighborhood pizzeria is a great option for the younger kids. Our 29 Best Pizza Places is a great source of info for finding the best pizza joint in your area.
We have compiled a list of event space venues that meet a variety of needs. Know of one we should add? EMAIL us the details.
Small Event Spaces
Here are some suggestions for small local venues and play places.
The Ponds Event Space
1142 Minnesota Ave
Kansas City, Kansas
Opening April 1, 2023!
12219-12221 Shawnee Mission Pkwy, Shawnee, KS
Check out their brand new 10,000 sq. ft. in Shawnee NOW open! Check out their website for the latest on their brand-new space and offerings.
14401 Metcalf Ave., Overland Park, KS
8554 Maurer Rd., Lenexa, KS
Both locations have multiple party rooms, AV hook-ups, options for team-building and whole park rentals for private events.
2801 NE McBaine Dr., Lee's Summit, MO
6495 Quivira Rd., Shawnee, KS
Throw an event unlike any other for your co-workers, campers, classroom, team, or any other large group.
Sports, Historical, and Musical Themed Venues
Many places have the ability to cater to all ages and interests. These could include sports, arts, historical, and musical-themed venues.
Here are some options we have compiled.
1401 Grand Blvd Kansas City, MO
This might be the ultimate party place for the college basketball fan, young or old. They will be excited to spend their special day here. Or this could be the place for that company team building or group event. The CBE has birthday party options along with venue rentals. Jayhawks, Wildcats, Tigers, even Sooners, Blue Devils, and Tar Heels are welcome.
1 Royal Way, Kansas City, MO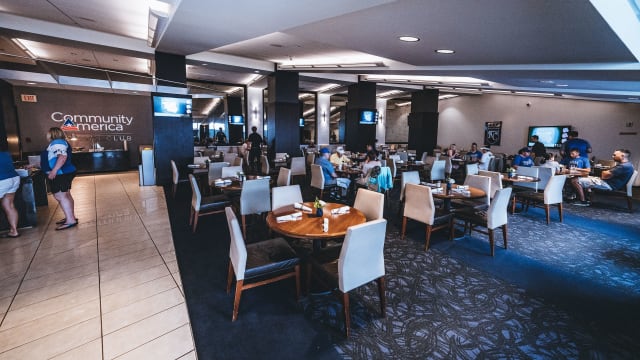 Have a party where the KC Royals play, there are 11 venues available at the ballpark. Capacities range from 30-6000. The Kids Interactive Zone includes Sluggerrr's Mini-Golf, The Little "K", MLB Game Lounge, and a baseball-themed playground. The older kids and adults might enjoy a party at the Royals Hall of Fame Museum. There are also suites, boardrooms, and conference rooms for a company or corporate event.
4420 Warwick Blvd, Kansas City, MO
Art-loving partiers will love an event held here. Guests can explore the galleries and then enjoy the fantastic food from Café Sebastienne. The Courtyard and the Museum/Atrium are both available for your event or ceremony.
6800 Zoo Dr. Swope Park, Kansas City, MO
Now, this is a wild place for your next party. Rent the zoo for your next family event, birthday party, picnic, wedding, or corporate event.
1761 Burlington, North Kansas City, MO
This indoor/outdoor entertainment complex has six unique event spaces with on-site catering that can host 20-300+ of your closest friends. Have some fun on one of their 8 pickleball courts.
30 W. Pershing Rd., Kansas City, MO
One of KC's architectural masterpieces boasts 11 separate spaces that you can rent, with many attractions for everyone of all ages. Each of their 11 spaces has its own look and feel. Choose from the 95-foot ceilings, the 3,500-pound chandeliers, and the world-famous hanging clock, or explore Science City for a fun vibe. Your attendees will love the ambiance or the fun, depending on the space you choose. One of our favorites is the Haverty Family Yards where you can hold your event outside and watch the trains go by.
2534 Madison Ave, Kansas City, MO
The Boulevard Brewing Co. complex has 6 event venues within their complex, ranging in capacity from 35-225 people with each room having its own specific amenities. These are perfect for a party or even a wedding to remember.
1616 E. 18th St. Kansas City, MO
Immerse your guests in the history of jazz and its impact on KC, the nation, and the world. Available only on Tuesdays, Wednesdays, and Sundays (it is a working jazz club after all) with a suggested capacity of 75. The soft lighting and contemporary feel make for a perfect event venue.
101 E. Armour Blvd., Kansas City, MO
Simply gorgeous, the Loose Mansion is listed on the National Historic Registry. The former home of notable Kansas Citians Jacob & Ella Loose has been restored to its original elegance but with all the modern necessities. You can use the entire mansion or just the parlor/portico, the main & lower level, or the ballroom. An all-inclusive approach allows you to enjoy a stress-free special occasion.
Traditional Indoor and Outdoor Event Venues in KC
1609 NW US Highway 50, Kingsville, MO
The KC area's botanical gardens offer 6 versatile venues for your wedding, reception, private or corporate event. Discover which one is right for you using this handy guide.
2100 Central St., Kansas City, MO
A cozy roof-top spot nestled on top of the former Meridien Creamery Co. Building. The space has a kitchen and can accommodate 10-50 guests.
5200 Wornall, Kansas City, MO
Have that fairy tale wedding in The Rose Garden at Loose Park. The Pond is also available for smaller ceremonies on that special day.
701 Village West Pkwy, Kansas City, KS
A luxury events venue located on the grounds of the Chateau Avalon Hotel. Features include floor-to-ceiling glass panels, an outdoor amphitheater, and the city's largest fountain.
9000 W. 137th St. Overland Park, KS
One of KC's famous families operates this facility in southern Johnson County that can handle 25-600 guests. Probably can get some good BBQ too, just guessin'.
3101 Gillham Pl., Kansas City, MO
This building started hosting events back in 1927. In the 50s it was a roller rink and holding rock'n'roll shows. In the 70s it was known as The Cowtown Ballroom where many concerts were held. The current space has been updated to hold business get-togethers, weddings, and other events. Their two spaces can accommodate 120 or 250 respectively.
17221 E. 32nd St. Independence, MO
This rustic and elegant venue can hold up to 230 guests. Among the 100-year-old trees is a cottage from the 1920's that's been preserved and updated. There is a lovely outdoor patio area with a silo bar. Indoor and outdoor spaces are available.
227 Municipal Circle, Raymore, MO
This facility run by the Raymore Parks & Rec Dept. has a main hall suitable for up to 240 people and a smaller room that would hold up to 20. There is an outdoor patio and grove with a firepit where guests can gather.
1201 W. Main St. Blue Springs, MO
Located in the heart of downtown Blue Springs, this fun industrial space offers indoor seating for 100 and a spacious patio outdoors.
You can also check out our 38 Family Friendly Breweries in KC to find other spots that might have event venues to rent.
308 SE Douglas St. Lee's Summit, MO
A corporate or private event and wedding venue serving the area since 2010. They offer 3 different spaces, including an open outdoor rooftop area with a wisteria wall and water feature.
26806 Metcalf Rd. Louisburg, KS
Surrounded by picturesque countryside, with gardens, a waterfall, a vineyard, and an orchard, this charming venue will provide that fairytale experience. To commemorate your nuptials, a brick with your names and date will be placed on the grounds.
15640 Highway 92 Spur, Platte City, Missouri
Classical charm and historical elegance exude from their Victorian house, spacious reception hall, and rustic red barn. Have your ceremony at the stone and grass amphitheater-styled area under a beautiful arbor.
We're hoping this Guide to the Best Event Venues in Kansas City helps you explore the options. No matter where you choose to celebrate your special event, everyone at iFamilyKC wishes you a successful event!
Make sure you sign up for our eNews list so you don't miss a thing~
From our family to yours,
iFamilyKC