Car Seat Trade-In at Walmart (Exchange for $30 Giftcard)
Trade in your old car seats at Walmart to receive a $30 Walmart gift card!
Almost 4,000 Walmarts in the U.S. will participate in the largest car seat trade in event…ever.
***UPDATE: Walmart abruptly ended the promotion on 9/21/2019 without any notice to consumers. Over a million car seats were turned in during the first 5 days. You can find more info here.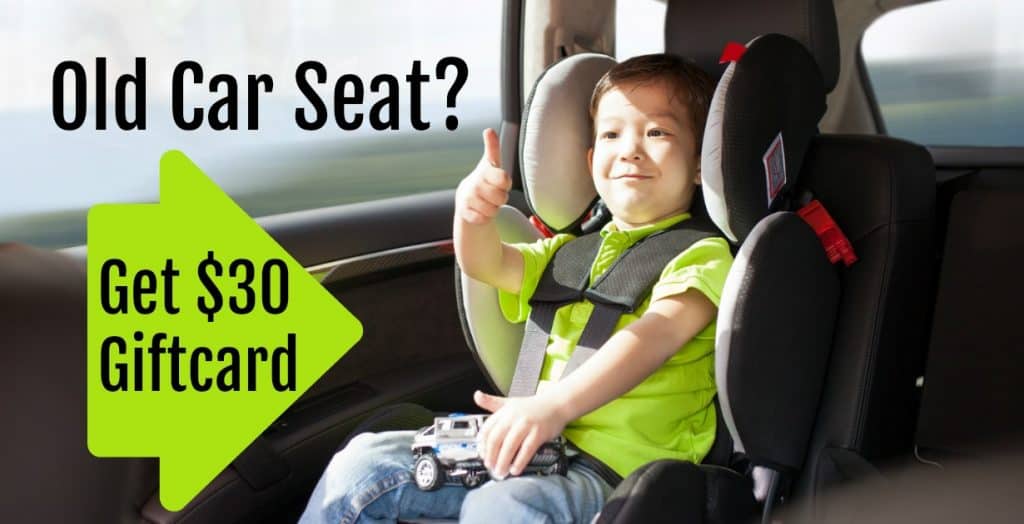 Car Seat Trade In Event…Money for You
From September 16th to 30th you can trade in your car seats for $30 gift cards at Walmart Super Centers.
All you need to do is take your car seat to the service desk at any participating store to receive a gift card to Walmart!
You can bring any brand of car seat to take advantage of the offer. However, booster seats will not be accepted as trade ins for gift cards.
Find a Trade In Event Near Me
Just type in your zip code at this link to find the nearest participating Walmart.
There are many locations throughout the metro, so you can easily claim your gift card!
Fine Print for Car Seat Trade In:
You must trade in a car seat in order to receive the $30 gift card. You CANNOT trade in booster seats to get the offer.
There is a limit of 2 gift cards per household, so you can only trade in up to 2 car seats. The offer will run from September 16th to September 30th at the 4,000 participating locations.
The deal will not be available at all Walmart Neighborhood Markets. Find more info on offer terms online.
What Happens to the Car Seats?
Walmart partnered with TerraCycle to recycle all car seats collected during the event.
The organization works to recycle "hard-to-recycle" objects like car seats and other bulky items, so you can be sure that each part of the car seat won't end up in a landfill!
We hope your family is able to take advantage of this great offer!
Let us know what you plan to buy with your gift card in the comments…
From our family to yours, iFamilyKC