Our Favorite Star Wars Party Ideas & Events in KC: May the 4th be with You
While May the 4th is not considered a national holiday, it should be in the eyes of every Star Wars fan…It's also known as Star Wars Day!
Celebrate Star Wars Day in style with Jedi-tastic events happening around KC, or create your own DIY Star Wars party at home.
…what's more fun than lightsaber battles?
Disclaimer: iFamilyKC is supported by its readers. When you purchase through links on our site, we may earn an affiliate commission.
Star Wars Day: May the 4th be with you
There are fun Star Wars Day events happening around KC throughout April & May. 
Throw your own DIY party, or create a Star Wars masterpiece at Paint, Glaze, & Fire.
So, grab your lightsabers & Star Wars costumes to celebrate this special day.
There are fun things to do for every family!
Star Wars Day Events in KC:
Saturday, May 6th at 2 pm-4 pm
Redux Society – 215 Southwest Blvd, Kansas City, MO 64108
Redux Society is hosting a Lightsaber tournament with their lightsaber dueling league. This tournament is also offered on multiple days so you can always celebrate Star Wars in style.
The RINO in KC presents Star Wars trivia. They will have Star Wars-themed food and drinks available. This is open to all ages but the environment will have a Pg-13 bar vibe.
May 4th from 6:00pm-8:00pm, visit the Independence Uptown Market for a Star Wars extravaganza. This free event will have Star Wars Lego displays, crafts, snacks, temp tattoos, and more
DIY Star Wars Party:
If your child is obsessed with Star Wars like ours, you can also throw a Star Wars party at home to surprise your little Jedi on May 4th…
Here are some ideas for a DIY Star Wars Party: May the 4th Be With You that's out of this galaxy: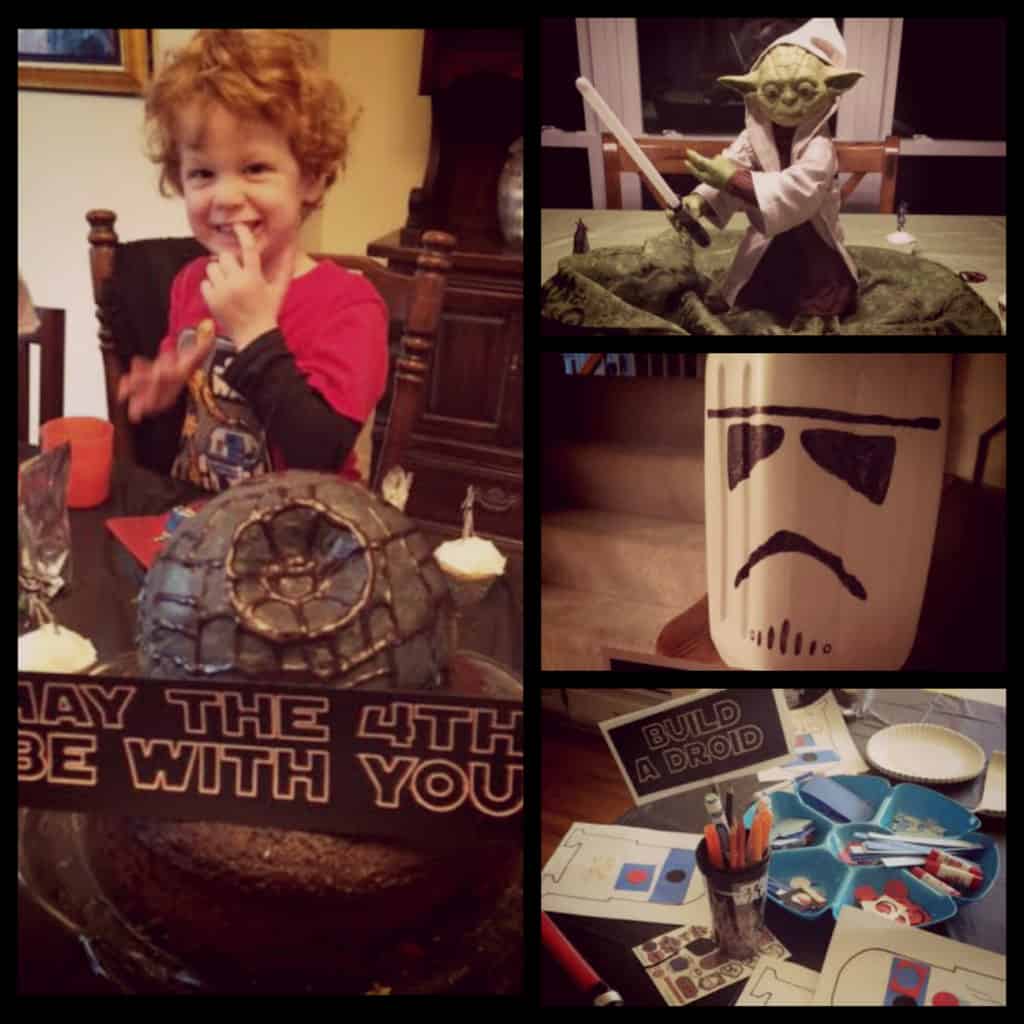 Star Wars Party Activities:
We had young and old kids coming to the party, so we wanted to make sure our activities could scale to a range of abilities. All of these ideas are cheap and easy!
 A "Tattoos from Tatooine" booth — all Star Wars, of course
 Build your own droid station with R2-D2 and BB-8 materials
 Find the Storm Troopers — I turned empty milk cartons from Costco into Storm Trooper helmets and hid them around the party
In addition to pizza, we had fun shopping for all kinds of Star Wars treats (fruit snacks, crackers, cookies, even cereal) — there's no shortage out there! I made little water bottles resembling R2-D2s and offered "Jedi Juice." For dessert, it was a Death Star cake made with a Wilton 3D Sports Ball Wilton cake mold. Unless you are crazy like me, do yourself a favor and just order a cake!
Pro tip: Dollar Store has a lot of Star Wars stuff on the CHEAP.
Star Wars Themed Games:
After the food, we took the party to a nearby gymnastics studio for some Jedi Knight training. If you want to keep the party contained in one location, it would be very easy to come up with a few obstacle courses in your own backyard. You can buy lightsabers (online seems cost-effective) to host a lightsaber battle tournament in the back yard too. 🙂
At the end of the party, everyone received their own Jedi Knight certificate and a bubble wand lightsaber.
The level of effort was minimal on this one (sans cake) and the party was a big hit with the kids AND parents. 
Pull out the costumes or make your own! A Star Wars costume party is another great idea to celebrate Star Wars Day. Encourage all your party guests to dress up as their favorite character.
Grab the snacks and clear your calendar. Spend Star Wars Day rewatching all of the classics and newer films. Make a whole day of it.
Create your own or snag this free Star Wars Trivia pack. Make it hard or easier depending on your crowd. Either way, it will be tons of fun. Don't forget to get special prizes for the winners!
For even more Star Wars party ideas, check out this Star Wars Party board on Pinterest. May the force be with you.
Tons of additional items, ideas, and resources are always available for purchase online too.
Looking for other party ideas? Check out our party pages and our complete Guide to Things to Do with Kids in KC
Be sure to click below and sign up for THE SCOOP too! You will get our Weekend Planner sent to your inbox – never search for things to do this weekend again!
From our family to yours, iFamilyKC.