Birthing Beyond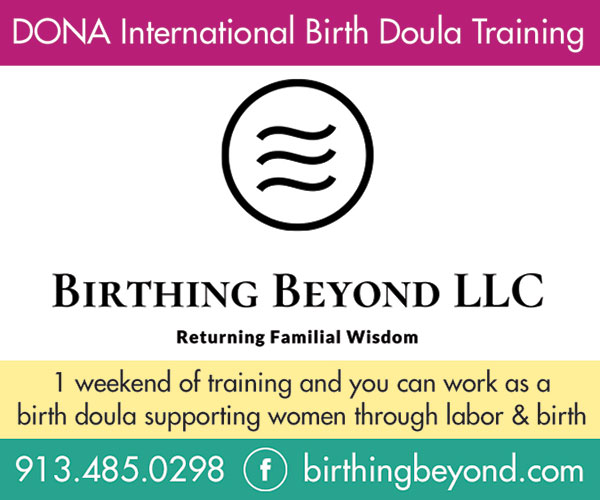 Birthing Beyond
Birthing Beyond, LLC offers comprehensive Lamaze childbirth education, certified breastfeeding education, certified Dona International labor (doula) support and DONA International Birth Doula Training throughout the KC metro area.
I am the mother of two girls-17 and 15 years old and a little man who is 13 years old. My husband, Brett, is a financial advisor at the Bank of Blue Vally. We have made Johnson County our home since 1999.
I obtained a Bachelors degree in Microbiology from the University of Kansas (Rock Chalk Jayhawk!), hold an International Board Certified Lactation Consultant (IBCLC) designation, a Childbirth Educators certification through Lamaze, Birth Doula certification through DONA International, Breastfeeding Educator certification from from Lactation Consultant Services, Postpartum Doula training from DONA International and The Happiest Baby on the Block certification by Dr. Harvey Karp. I am thrilled to be one of three certified Happiest Baby instructors in Kansas City and one of the first in the program! I earned my DONA International Certified Birth Doula Trainer certification through Bastry University, training under Penny Simkin at the Simkin Center.
I was accepted and attended the train the trainer for Baby Behavior conference given by the Human Lactation Center at UC Davis. I am excited to share this information to our area health departments, local WIC agencies and of course my families.
I have taught childbirth, breastfeeding and parenting to over 10,000 families in both private and hospital settings. And have had the pleasure of welcoming over 450 babies into the world thus far. Experiences include first time to fifth time moms, twins, unmedicated, epidurals, high blood pressure, Eclampsia, HELLP, Gestational Diabetes, Diabetes, blood disorders, previous back surgeries, suspected/unsuspected abnormalities, prenatal loss and still, loss of a spouse, inductions, VBACS/VBA2C, cesareans, preterm, precipitous and prodromal labors and much more. This experience and wisdom is invaluable as an educator, birth doula and birth doula trainer.
I have a partnership with Women's Health Associates, referrals from various OB's/CNM in the area and previously taught childbirth, breastfeeding, newborn care and adoption classes for Shawnee Mission Medical Center for 8 years. I have done births at all Johnson County hospitals. I am the past DONA International State Representative for Kansas. I currently work for the Johnson County WIC agency as a Breastfeeding Peer Counselor. I was a TA for Barton County Community College in Biology. I am currently teaching a monthly online breastfeeding class for childcare professionals for the KS Breastfeeding Coalition through KCCTO.
I am a member of Doulas of Greater Kansas City. I attend a variety of conferences and meetings to stay current on recent developments regarding pregnancy and birth, as well as subscribe to a variety of professional journals. I was chosen to poster present at the LAMAZE & DONA Confluence Conference in 2015 on the topic of Vaccine Safety Misconceptions Resulting in Alternative Vaccine Schedule Use and appeared on KCUR National Public Radio. Hear the podcast here.
I am available to give lectures, informational speeches and seminars to interested clubs, organizations, (ie. MOPS) etc. Please contact me for more information.
I am up to date on all vaccines, including the flu vaccine. I run my antibody titers regularly to protect you and your family.
I will provide you ideas, information and inspiration to create your birthing experience. I want to help you become lifetime advocates for your family. I would love to visit with your about your upcoming birth!
Vanessa Flood * 913.485.0298 * [email protected]