16 Best Outdoor Dining & Restaurants with Patios in Kansas City
We all love outdoor dining — especially in a great location, with delicious food and fantastic service! So we've found some of Kansas City's best restaurants with patios and other places to eat outside near you…
When it's nice enough to eat outside…you know where to go!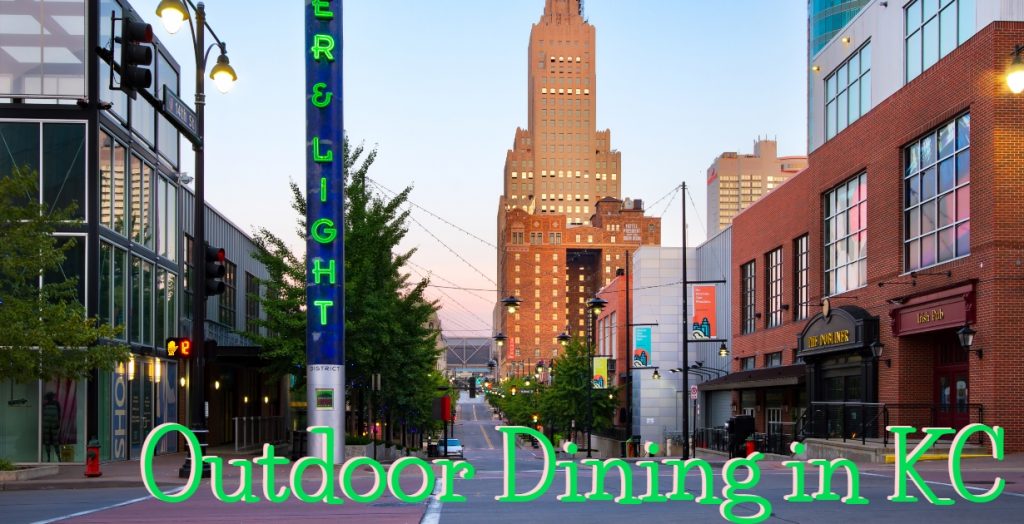 From barbecue to tapas, there are so many wonderful locations to visit when the weather permits. Take advantage of it whenever the weather is nice and eat outside! Kansas City has some of the best spots, so it's time to explore!
Restaurants with Patios & Outdoor Seating
In addition to where to eat outside, you can also find the Best Happy Hours in KC! You'll get a great view and a great deal…you can't beat that.
Check out some of our favorite restaurants below!
Kansas City:
300 Delaware St, Kansas City, MO 64105
This quaint restaurant is passionate about serving locally sourced food. You can enjoy their American eats for breakfast, brunch, lunch, and dinner. They have an adorable patio that is perfect for date night.
7421 Broadway, Kansas City, MO 64114
Enjoy American bar and grill grub on their awesome rooftop patio! The best part: it's open all year, complete with fire pits to keep you warm in the winter.
1663 Summit St, Kansas City, MO 64108
This restaurant serves creative, farm-to-table eats on their patio when the days are nice. You can expect to see luscious plants, a beer garden, and plenty of shade. FYI, this restaurant is only open Thursday through Saturday.
400 E 31st St, Kansas City, MO 64108
Brick House KC is the all-day hangout spot! Their patio is open for the summer and is seriously cool with a fire pit and string lights. Check out their weekly specials, too! They have fun deals most days of the week like Manic Monday and Whisky and Wine Wednesdays.
4050 Pennsylvania Ave #150, Kansas City, MO 64111
Of course, we had to feature some BBQ on this list! Char Bar's retro vibe and modern twist on BBQ make this a must-visit restaurant in KC. The restaurant features a large outdoor dining area and bar.
6227 Brookside Plaza, Kansas City, MO 64113
This taqueria-style restaurant is known for its innovative Mexican food. You'll be able to eat and drink on their fantastic outdoor dining area.
6229 Brookside Blvd, Kansas City, MO 64113
This Italian restaurant with on-site deli and market features and an adorable outdoor patio in front of their location. Reviewers mentioned they enjoyed the family-friendly atmosphere, great food, and great service.
301 W 47th St, Kansas City, MO 64112
Enjoy breakfast, brunch, lunch, or dinner at this restaurant serving American eats. Their outdoor dining space offers beautiful views of Country Club Plaza and plenty of comfortable seating.
703 Southwest Blvd, Kansas City, MO 64108
Eat Spanish tapas while enjoying the atmosphere on their sidewalk patio. Along with a fantastic wine selection, La Bodega also provides great happy hour specials.
Prairie Village:
3936 W 69th Terrace, Prairie Village, KS 66208
Described as a country-chic bistro, this French café features outdoor seating, great for both family meals and date nights. With 4.8 stars from over 300 Google Reviews, Café Provence is a crowd-pleaser.
4038 W 83rd St, Prairie Village, KS 66208
Find upscale burgers, fries, and a fantastic atmosphere here. This spacious restaurant is great for larger parties and the outdoor dining area is the perfect spot for any crowd.
1900 Shawnee Mission Pkwy, Mission Woods, KS 66205
The Restaurant at 1900 features modern American cuisine from award-winning Chef Linda Duerr. The stunning outdoor dining area is the perfect backdrop for your next anniversary celebration.
2701 W 47th Ave, Westwood, KS 66205
Enjoy Lulu's delicious Thai cuisine on their outdoor patio! This is a great spot to swing by for a quick lunch or stay a while for a nice dinner. There is something for everyone on their menu.
Overland Park:
5621 W 135th St Ste 2610, Overland Park, KS 66223
This restaurant serves Mexican & American eats with a modern twist. The outdoor patio is studded with brightly colored chairs and a view of the bustling Prairiefire district.
Lee's Summit:
302 SW Main St, Lee's Summit, MO 64063
Here you will experience pizza, pub grub, local draft beer, and live music Thursday through Saturday. Konrad's outdoor patio is the perfect spot to enjoy a beer with lunch or dinner.
We hope you enjoy your meal from whichever restaurant you decide on!
Whether you are looking to bring the kiddos for a family meal or for a romantic date night, these restaurants will fit the bill.
Bon appetite!
Know of a fun outdoor dining spot we should add? Just EMAIL us the scoop!
Be sure to also check out our:
Guide to Family-Friendly Breweries in KC
Guide to River Market Kansas City
Sign-up for The Scoop to get helpful Kansas City resources like this delivered right to your inbox! You will also get exclusive invites to Kids Club Events and movie premieres.
From our family to yours, iFamilyKC.