9 Best Candy Stores in Kansas City
We've got your complete guide to KC Candy Shops!
For all you worry warts out there, we will provide links to recommended pediatric dentists. Adults with a sweet tooth, remember to brush. Just kidding, but dental health is important. Everything is in moderation. We went looking for candy shops, not the aisle at your favorite grocery, big box store, or gas station.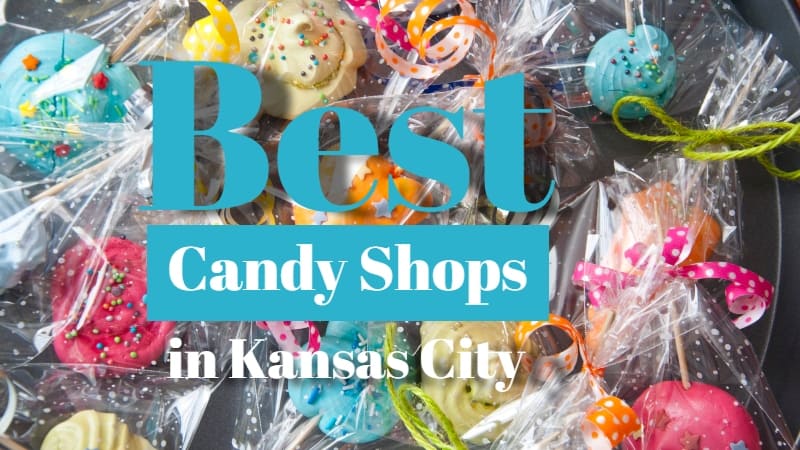 Whether you are looking for homemade fudge, candies from your youth, hard-to-find products, or other specialty confections, we think these are Kansas City's chateaus of sweets.
400 Grand Blvd, Suite 414
Kansas City, MO 64106
This sweet shop, in the River Market area, features 96 flavors of fresh saltwater taffy. They also sell hard-to-find retro candies, gifts, novelties, and souvenirs. There is a Sick & Sour section for fans of the pucker!
445 West 47th Street
Kansas City, Missouri, 64112
Located in the Country Club Plaza, IT'SUGAR specializes in innovative sweets, fun novelties, and giant candy. They believe in a world with fewer rules and more sugar.
Crown Center Shops
2450 Grand Blvd, Suite 239 (second floor)
Kansas City, MO 64108
Crown Center Shops
2450 Grand Blvd, Suite 125 (first floor)
Kansas City, MO 641088
Independence Center
18801 E. 39th Street South
Independence, MO 64057
Come by and see a chocolate factory at work. The location that is tucked away on the second floor in Crown Center lets you get a look at the production. Walk by anytime and see gigantic blobs of fudge being spread out on their marble workspace. Set up a "Chocology" tour for your school-aged group where they can taste and experience chocolate. Celebrating 39 years in KC, stop by and see them "throw some fudge".
2100 W 75th St.
Prairie Village, KS
Making candy the "old fashioned way" in Prairie Village, KS since 1970. They mix fresh ingredients with wooden paddles in copper kettles. Laura Little's offerings include fudge, chocolates, specialty cookies, popcorn, ice cream, assorted candies, seasonal candies like chocolate bunnies, caramel apples, and gift baskets.
7 MAIN St.
Parkville, MO
On Main St. in Parkville, MO, Old Town Sweets offers old-fashioned candy, homemade cookies, fudge, 72 flavors of salt water taffy, popcorn, and ice cream.
7723 W 151st St.
Overland Park, KS 66223
Next door to one of our favorite Mexican joints in South JoCo, this candy store offers a cool or sweet treat after that spicy meal. They have some of the best homemade fudge, chocolates, ice cream, novelty candy, and seasonal treats for Easter, Halloween, Christmas, and more. Some of the best in the Midwest.
11413 West 95th St.
Overland Park, KS, 66214
Oak Park Mall's sweet shop has candy, gummies, chocolates, and gifts for you, a friend, or a loved one that will make the day a little bit sweeter. Items include old-fashioned retro candy, hard candy, cotton candy, jelly beans, macarons, crispy pops, and marshmallow pops.
1601 Village West Pkwy
Kansas City, KS 66111
Let the kids' satisfy their sweet tooth while you shop for furniture or that new big-screen TV at Nebraska Furniture Mart. See's is famous for its chocolates, peanut brittle, and fudge. But they have so many more yummy cany options for each season of the year. Adorable gift sets too. There's also a BBQ joint in NFM. Get some brisket and then some candy for dessert.
Two locations:
10100 Shawnee Mission Pkwy,
Merriam, Kansas 66203-3643
1300 Village West Pkwy,
Kansas City, Kansas 66111-1875
Visit KC's hometown candy maker. Their corporate headquarters are located here and have two retail stores in the area. One in Merriam and the other by The Legends in KCK. They have a large selection of sugar-free candies for those with special dietary needs.
Let us know of any neighborhood candy shops that we might have missed, just send us an email with details, and we will add them.
We're hoping with sweet list will help you find just what you need.
Make sure you sign up for our eNews at the link below and you'll receive the latest and greats on all things kid and family in Kansas City. It'll be sent right to your inbox.
From our family to yours,
The iFamilyKC Team